Jazz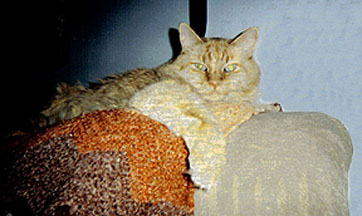 Owner's Name:
Nancy Wood
Pet's Name:
Jazz
Age:
14
Gender:
Male
| | |
| --- | --- |
| Illness | Date Diagnosed |
| onset of CRF | February 12, 2004 |
Why I think my kitty isn't eating: He started not eating within 48 hours of being on the antibiotic Clavamox. I wasn't concerned too much at first, but by the 3rd day I was. I tried Gerber baby food, chicken & beef broths, various canned, lunch meat (chicken & turkey), and special cat milk for senior felines. Nothing worked. After 5 days, my vet changed him to Baytril 20, and the change was dramatic. Within 2 hrs of the first dose, he was begging to eat. He is eating approximately 5 little meals a day now, and seems to be more of himself thank god! His drinking is normal, not reduced or excessive.
| | |
| --- | --- |
| Date when assist feeding began: | |
| Why I've chosen to Assist Feed: | |
| Feeding Technique: | |
| Appetite Primer Tricks: | Heat up all the food, canned, lunch meat, anything... makes his sense of smell kick in a bit better! |
| Food liked best: | chicken, turkey, liver |
| Food liked least: | |
| Special Treats: | Right now, anything he will eat, after bad side effects from antibiotics, so his weight loss will hopefully stop. |
Medications, Dose/Frequency
Baytril 20 1x day
Ringers Lactate 100ml 1x wkly
| | |
| --- | --- |
| Weight | Date |
| 14.6 lbs | February 7, 2004 |
Home | Privacy Policy | Site Map
---
Typos? Please email me at Kathy (at) AssistFeed.com
Copyright © 2003-2013 by Kathy Fatheree. All rights reserved.
Disclaimer: Kathy Fatheree is not at all a medical expert. Contents of this web site are a collection of Kathy's assist feeding experiences as well as the experiences of other cat owners who have assist fed their cats. While every effort has been made to ensure the accuracy of the information, Kathy Fatheree or anyone associated with this web site cannot be held responsible for anything that may happen as a result of using the information on this site.