OJ



Jan. 4, 2004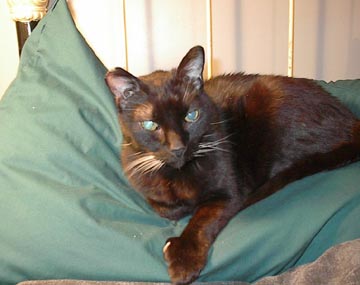 Owner's Name:
Cata
Pet's Name:
OJ
Age:
21
Gender:
Male
| | |
| --- | --- |
| Illness | Date Diagnosed |
| CRF | Nov 26, 2002 |
| Diabetes | Nov 26, 2002 |
| Hypertension | Nov 26, 2002 |
| Arthritis | |
| Spinal problems | |
| Neuropathy | |
| Blindness | |
Why I think my kitty isn't eating:
| | |
| --- | --- |
| Date when assist feeding began: | I'm not assist feeding now, but giving pills, and syringing medications. I blended the mixed food with home made broth to the consistency of baby food, and it could easily be syringed. |
| Why I've chosen to Assist Feed: | OJ never had canned food before, and couldn't figure out how to eat it. After he came home from the hospital, after his initial crash, I syringe fed him for a couple of weeks, until I could figure out how to get the canned food (which the vet wanted him on) into a form he could eat. |
| Feeding Technique: | I discovered that OJ did fine with baby meat, which he could lick up. I then decided to blend canned with broth to baby food consistency, so that he can lick it up. This doesn't work well with any of the sliced or shredded varieties of food. Pate like food works best. To this day, he has trouble figuring out how to eat canned food in any other form. He also has bad teeth, and I assume, mouth pain, which makes it easier for him to eat food he can lick. I mix 1/2 Wysong Beef all meat for cats and dogs (which is low phos.), with 1/2 IVD Modified, to get a high protein, low phos. food, to contend with CRF and diabetes. |
| Appetite Primer Tricks: | |
| Food liked best: | Gerbers baby meat, any flavor except chicken or turkey |
| Food liked least: | Any food with chicken or turkey |
| Special Treats: | One Bonkers Tuna and Shrimp, or Cosmic Catnip Shrimp and Lobster treat after each pill (4 per day). |
Medications, Dose/Frequency
Norvasc 1.25 mg. per day
Lotensin 1.25 mg. per day
Pepcid AC 1/4 tab per day
Cyproheptadine 1/8 tab per day
PZI insulin 1 1/2 units 2x per day
100 mg. LRS per day
2 ml. Lactulose per day
750 mg. phos. binder per day
| | |
| --- | --- |
| Weight | Date |
| 12 lbs. | October 24, 2003 |
| | |
| | |
| | |
| | |
Home | Privacy Policy | Site Map
---
Typos? Please email me at Kathy (at) AssistFeed.com
Copyright © 2003-2013 by Kathy Fatheree. All rights reserved.
Disclaimer: Kathy Fatheree is not at all a medical expert. Contents of this web site are a collection of Kathy's assist feeding experiences as well as the experiences of other cat owners who have assist fed their cats. While every effort has been made to ensure the accuracy of the information, Kathy Fatheree or anyone associated with this web site cannot be held responsible for anything that may happen as a result of using the information on this site.