Tudanuma,Narashino-shi,Chiba
Japan



Nov. 30, 2003
Dear Kathy,
Hello,I am a reader of your web site. I have been assist-feeding my 16-years-old kitty Chachibi since August 2002. She has lost her appetite because of CRF. There are very small numbers of people here in Japan that understand about feline assisted-feeding. Some even think that is kind of violence! But I never could let Chachibi go starve to death.
     We struggled , struggled only by ourselves (we were alone ) till we somehow got to manage getting along in harmony with her k/d meals. But after a whole year when we two became used to the situation and somewhat confident on it, some new problems emerged. Chachibi has totally stopped eating on her own since this summer though her blood numbers were not very bad. She had sometimes eaten from my palm when she felt fine. But she now hates everything on my hand. And she started vomiting regularly. And it increased to even 8 times a day.
     Summer is what we don't like. I ran the air conditioner 24 hours a day, so the room temperature was kept all right, yet summer was still heavy to Chachibi. She again lost her weight. It fell down to 3.9kg from 4.5 just like in summer 2002. It is worse, because this occurred with my convinced assisted-feeding. She started teeth grinding and head shaking. She has been on medication of tagamet (cimetidine) since July. But no good reaction was seen. She kept vomiting. She even experienced diarrhea for the first time in her life. Sub-Q with some Primpelan (metoclopramide like reglan) 60cc twice a day was started from September. The numbers of vomiting decreased. A little recover of weight made me happy. October, I persuaded the vet to change cimetidine to famotidine. (Japanese vets tend to prefer cimetidine). I hope famotidine is going to show its power gradually.
     BUT now,again new problem. It looks like that Chachibi decided not to drink even water on her own! Maybe the amount of water in an a/d can & in subQ120cc meets what she needs. I know I must talk to the vet again to change the tactics. Perhaps I will get primpelan tablets instead of subQ with primpelan liquid added. On the other hand, I know it could be the omen that I dread for long.
     It has became my habit always to strain my ears not to miss the sound of Chachibi's licking. It strain my nerve too, but in spite of everything I have to do & do not, you know that I am very happy. I am with Chachibi after all.
Oh, I didn't mean to write you about our awful summer story. (It is October already though.) I just would like to send you a small information on the scale we use. It is Tanita baby scale. 
The minimum gauge is 5g. There are different gauge types, too. The size of baby scale tray is just for cats, I think. The file attached is the photo of the scale and of Chachibi with some weary look. Well, but the scale thing is not really the reason that I write to you. (In fact ,I am sure you already know about baby scales.)
It was only in last month that I came across to your wonderful homepage. I was searching for imformation on cat's teeth grinding then. The light was given. I wonder why I couldn't have read it earlier. Every sentence gave me deep sympathy ,comfort. And inspirations, too, of course. I don't know the words to express how grateful I am. I really hope you will keep and grow it for the people who are lost in the dark with their darling cats . I have been a member of Yahoo CRF group since this spring. I was not lucky enough to know the assisted feeding group. But I feel those enormous posts are like a river. They are to move on. We need an established web site, like Tanya's or Avatar's on CRF information. And that is your site.
Please take care of yourself as well as of Bubba.
With love & respects,
Chachibi & Midori
Early 2003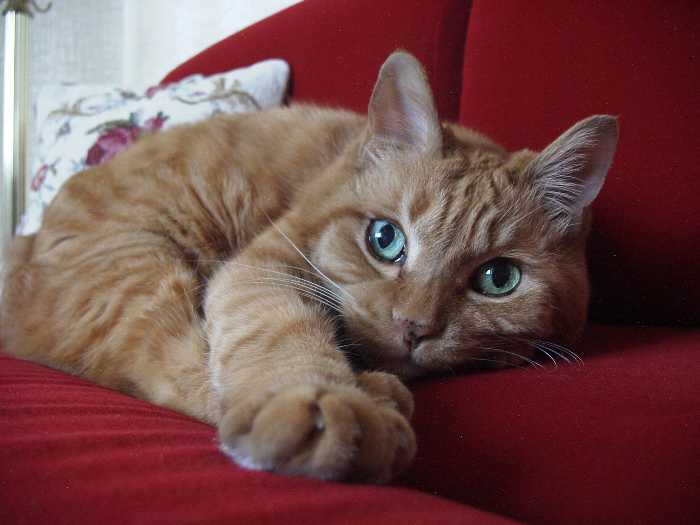 November 15, 2003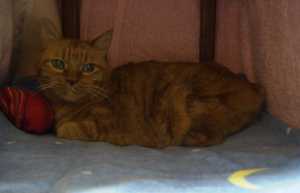 Chachibi in her table tent this evening . She looks tired considerably, doesn't she….
Please note there's moon you mentioned on her towel. We can think of you and Bubba looking at it…