Fraulein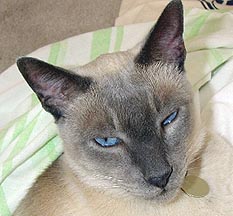 Owner's Name:

Erica La Spada

Pet's Name:

Fraulein

Age:

9

Gender:

Male
Illness

Date Diagnosed

N

o one can figure it out–originally it was hemobart (1/17/04) and now it's potentially Inflammatory Bowel Syndrome, though lymphoma has not been ruled out.
Why I think my kitty isn't eating: He is pretty nauseous and his stomach is inflamed, so I'm sure he's pretty uncomfortable. Foods do interest him, but I believe he is afraid that eating will make him feel worse.
Date when assist feeding began:

February 8, 2004

Why I've chosen to Assist Feed:

He eats almost nothing by himself most days, and syringe feeding is the only way to keep him from starving himself.

Feeding Technique:

We close ourselves into the bathroom, where it's quiet, hard to escape from and easily cleanable. I talk to him and praise him constantly, as this is far from his favorite thing. I avoid confining him bodily in any way because that truly stresses him out.

I was feeding him A/D, then I/D, but due to his chronic diarrhea, I've just switched to feeding him a homemade bland diet–boiled chicken and rice with a little Hi-Vite drops. He is none too pleased with any of it.

Appetite Primer Tricks:

I've tried many a thing, nothing seems to work.

Food liked best:

Changes constantly, but it used to be anything with fish.

Food liked least:

Our yogurt run was not very successful.

Special Treats:

Catnip and Temptations, though edible treats are no longer anything he seems to want.
Medications, Dose/Frequency
metronidizole 75mg/twice daily
| | |
| --- | --- |
| | |
| 8.5 lb – usually a 12 lb kitty | |