Nov 17, 2003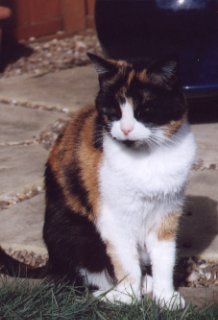 October 30, 2003
     My 18 1/2 year old cat Kitty is having difficulty eating to the extent last weekend that we nearly lost her. She has lost lots of weight and is currently 2.27kg. We are coaxing her to eat warm pate type meat with butter and she's drinking water and evaporated milk. My vet did look into her mouth and couldn't see anything untoward. A little tartar which can't be removed because of her age but it wasn't bad. If she gets food at the side of her mouth she will grind her two fang teeth together and spit food out. She will not eat anything with lumps in it as it involves chewing. If any food at all touches the side of her mouth she produces salive. The only way we can get food into her is from our fingers and that's pretty difficult persuading her to eat.
     I dont want to lose my baby to malnutrition. She does have failing kidneys although her blood count isn't too high.
     We are going away for a few days and taking her with us, after I have taken her to the vets in the morning to see if shes stilll okay to travel. She loves travelling in the car it doesn't stress her at all.

Thanks,
Love Hazel