Purcey



Dec. 8, 2003
Owner's Name:

Phil and Joan Williamson

Pet's Name:

Purcey

Age:

12

Gender:

Male
| | |
| --- | --- |
| Illness | Date Diagnosed |
| | |
Why I think my kitty isn't eating:
| | |
| --- | --- |
| Date when assist feeding began: |  November 21 2003 |
| Why I've chosen to Assist Feed: |   |
| Feeding Technique: | I tried to syringe feed him but could not get enough in him. Had to have a tube placed as it was critical. |
| Appetite Primer Tricks: | Constantley trying to get him to eat something. |
| Food liked best: | Hills CDS and Tuna in water |
| Food liked least: | Baby food |
| Special Treats: | Moist Tender Vittles, Tuna in water, Anything he wants. |
Medications, Dose/Frequency
 Doxycycline 1/4 tablet twice a day
 Baytril 1/2 Tablet once a day
Saving Purcey
December 6, 2003
     Purcey "our 12 year old tabby" quit eating and drinking sometime this November. We noticed his appetite loss at first, but didn't think much about it since his behavior was normal. Then, suddenly his mood changed and activities stopped, as all he wanted to do was lay under the bed. We had placed his favorite food under the bed with him but he would not eat or drink anything. I took Purcey to the vet on a Friday and found he had lost around 4 pounds and he had a fever of 104. They ran some blood tests but that didn't show any thing serious going on. The vet's only suggestion was we force feed him and gave us some antibiotics that could fight an infection if that was the cause of the fever. We tried everything to get Purcey to eat and drink with not much luck and getting the pills down him was a real challenge. I had already searched the Interne! t for options and help on this kind of thing and tried it all. November 26, 2003 in the morning we decided to get a feeding tube put in Purcey. This was our only hope because this was getting serious. Our vet seemed to be surprised by our request but agreed that this was the only way to save him at this point. We were able to pick Purcey up at 4:00 that afternoon. The vet had done an ultrasound and x-rays of Purcey while he was sedated. The x-rays showed a mass in his abdomen as well as a full colon. They could also feel the mass after knowing where it was located. Our only option was to get Purcey well enough for further examinations. We started feeding Purcey 20 cc's of water and prescription food along with his antibiotics every two hours during the day. Purcey was able to keep this food down for the most part, but sometimes he would throw it back up. We noticed when he would try to defecate that he would loose his previous meal. We took Purcey back to the vet on Friday,! November 28 for a check up. Purcey still had a fever, but had not lost any weight. We told the vet about the bowel problem, but he didn't seem to be concerned with that. The vet was more concerned with the fever and prescribed another antibiotic and wanted to see him again on Monday. Every thing seemed to be going well through the weekend until late Sunday night around 10:00. Purcey started having stomach cramps and needed to pass things along. He would try very hard but nothing was coming out. Then he just lay in the floor and was trying to go. Now the situation was serious again and we had to make a decision fast. We knew he needed help quickly if we were going to save him. Our vet had gave us 4 syringes for feeding 'two big ones and two smaller ones". We did not like the bigger syringes for feeding and had not used them. I grabbed one of those and filled it with 20cc of mineral oil. I held Purcey while my wife inserted the funnel end of the syringe into his little butt. We shot about 15cc into h! im. He didn't like it too much but it seemed to help the pains. About an hour later Purcey passed the concrete substance that had been sitting there for a while. We could tell he was very happy to get rid of this blockage. On Monday the vet told me we did the right thing. Purcey's fever has gone for now and the vet said he could not feel the mass in his abdomen. All this is good news but we still have a ways to go. Purcey still will not eat on his own so I continue to feed him through the tube every two hours.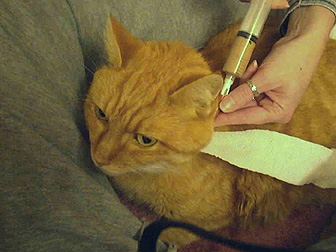 He doesn't seem to be irritated or bothered by the tube at all. Every day Purcey shows some little signs of improvement. It is the little things that you don't miss until they are gone. We are trying everything we can to get Purcey back to his usual self.