Sam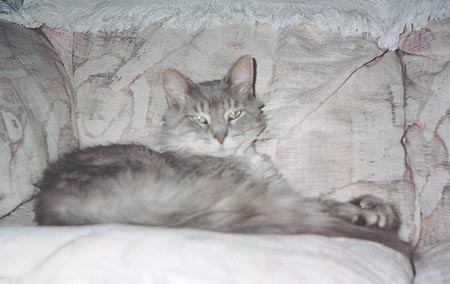 Owner's Name:

Carolyn Murphy

Pet's Name:

Sam

Age:

6

Gender:

Male
| | |
| --- | --- |
| | |
| mast cell cancer of intestine | Aug. 18, 2003 |
Why I think my kitty isn't eating:
My sweet little boy, Sam, came to me as a stray in the summer of 2000. He would show up at my back door every single night as soon as the sun went down. I thought someone owned him, and he was just let out at night, because I never saw him during the day. 
All summer, I took him in at night, fed him, and we slept together. Finally, as the nights got colder, I decided to take him in and keep him inside for good, because he was declawed and a cat without claws does not belong outside. It took a while for him to forget about the outdoors, and now he is a strictly indoor happy kitty.
Early this year, Sam began to vomit every few days and was losing weight. I must of tried a million different kinds of different food, thinking that was the problem. I brought him to the vet and they ran every test possible, and everything came back negative. Finally, Sam went for a biopsy of the stomach lining Aug. 18, 2003 to determine if he had IBD or lymphoma. They found a single tumor partially blocking his intestinal opening. They removed it and unfortunately it came back as a rare type of cancer called mast cell. Sam had a very rough couple of months after diagnosis. There were a few times his doctor and myself did not think he would survive. But Sam is a fighter and he has come so far. He repeatedly got dehydrated and was admitted several times for IV fluids. He never regained his appetite completely following the surgery. He was not eating enough on his own, so we had to place an esophageal tube on Sept. 8, 2003. He began to gain weight and do very well following the tube placement. He had the e-tube for 7 weeks and then it became dislodged and he went for a PEG tube placement Oct. 29, 2003. He is doing much better with the PEG Tube. He has gained a whole pound and is doing very well. He is happy and always running around chasing his toys. Eventually we hope to wean him off the tube feedings, but for now, it is the best thing for him.
Update: Dec. 17, 2003
Sam's weight is 10 pounds. He gained 2 pounds in one month. He will continue with chemo once a month. He is officially in Remission for the first time! Thanks
| | |
| --- | --- |
| Date when assist feeding began: | Sept. 8, 2003 |
| Why I've chosen to Assist Feed: | Provides feeding help. |
| Feeding Technique: | Feeding Tube |
| Appetite Primer Tricks: | |
| Food liked best: | |
| Food liked least: | |
| Special Treats: | |
Medications, Dose/Frequency
Reglan 3x day
Pepcid Ac 2x day
Prednisone 1x day