Fraulein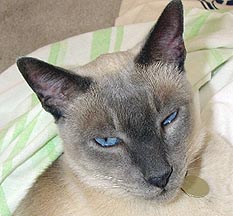 Owner's Name:
Erica La Spada
Pet's Name:
Fraulein
Age:
9
Gender:
Male
| | |
| --- | --- |
| Illness | Date Diagnosed |
| No one can figure it out--originally it was hemobart (1/17/04) and now it's potentially Inflammatory Bowel Syndrome, though lymphoma has not been ruled out. | |
Why I think my kitty isn't eating: He is pretty nauseous and his stomach is inflamed, so I'm sure he's pretty uncomfortable. Foods do interest him, but I believe he is afraid that eating will make him feel worse.
Date when assist feeding began:
February 8, 2004
Why I've chosen to Assist Feed:
He eats almost nothing by himself most days, and syringe feeding is the only way to keep him from starving himself.
Feeding Technique:

We close ourselves into the bathroom, where it's quiet, hard to escape from and easily cleanable. I talk to him and praise him constantly, as this is far from his favorite thing. I avoid confining him bodily in any way because that truly stresses him out.

I was feeding him A/D, then I/D, but due to his chronic diarrhea, I've just switched to feeding him a homemade bland diet--boiled chicken and rice with a little Hi-Vite drops. He is none too pleased with any of it.

Appetite Primer Tricks:
I've tried many a thing, nothing seems to work.
Food liked best:
Changes constantly, but it used to be anything with fish.
Food liked least:
Our yogurt run was not very successful.
Special Treats:
Catnip and Temptations, though edible treats are no longer anything he seems to want.
Medications, Dose/Frequency
prednisone 5mg/day
metronidizole 75mg/twice daily
| | |
| --- | --- |
| Weight | Date |
| 8.5 lb - usually a 12 lb kitty | February 19, 2004 |
Home | Privacy Policy | Site Map
---
Typos? Please email me at Kathy (at) AssistFeed.com
Copyright © 2003-2013 by Kathy Fatheree. All rights reserved.
Disclaimer: Kathy Fatheree is not at all a medical expert. Contents of this web site are a collection of Kathy's assist feeding experiences as well as the experiences of other cat owners who have assist fed their cats. While every effort has been made to ensure the accuracy of the information, Kathy Fatheree or anyone associated with this web site cannot be held responsible for anything that may happen as a result of using the information on this site.